3D Jewelry design software
The most complete 3D jewelry CAD software
You need to use the most advanced CAD jewelry design software when it comes to designing and manufacturing. With over 20 years of expertise in the jewelry industry, 3Design has established its presence worldwide. Its unparalleled reputation has made 3Design the go-to software for all jewelers who wish to create their own 3D jewels.
Visually appealing
"A user-friendly and professional interface which is easy to manage."
With feedback from our 3Design users, we have modified the interface to resemble a jeweler's environment at the workbench. The 3Design interface is clean, visual and easy to use for goldsmiths and designers with decades of experience in the trade. Designing 3D jewelry models has never been so simple.
Independently developed
"3Design is not a solution based on Rhino."
Our 3DESIGN 3D jewelry CAD software has always been developed as an independent 3D engine since its launch and has been further updated at our headquarters. Thanks to our talented development team we have made our 3Design dream a reality.
To date, 5000 customers have placed their trust in us and are satisfied with their 3D jewelry design tool.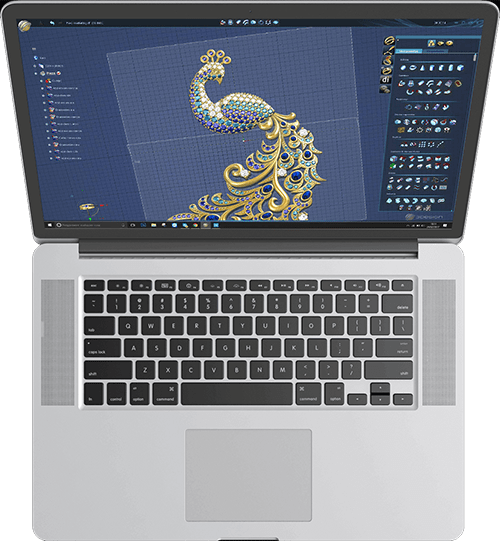 Short learning curve
"Easy to learn and manoeuvre"
After training with one of our technical experts, you will be able to start designing 3D jewelry models. Jewelers and designers alike can let their imagination run wild with our tools. 3Design's dynamic tools make laborious 3D jewels creation a thing of the past.
Our 3Design support teams are proud to help our users by bringing their CAD expertise in their daily jewelry life.
Powerful software
"A powerful parametric engine"
3Design saves all the parameters of your 3D jewelry model design, making it straightforward to modify it in front of the customer or at a later stage. This parametric technology prevents you from having to start from scratch. The power of parametric! You have full control of your designs and can share them at any point with your clients.  
Get the most out of your jewelry design software
Develop your jeweler skills to their full potential.

3D JEWELLERY DESIGN SOFTWARE
– Utilisez la puissance du Paramétrique et gagnez du temps –
In addition to its unrivalled recalculation power in the jewellery industry, made possible by its parametric engine, the 3Design software calculation engine runs identically on MAC & PC. The files saved are 100% compatible between the 2 systems, enabling designers to exchange their 3D jewellery creations with each other or send their files to manufacturers, whatever their equipment.

SCULPT YOUR IDEAS WITH OUR FREE FORM JEWELRY 3D SHAPE BUILDER
Think outside the box
3Shaper is an independent module of 3Design allowing the creation of organic shapes in order to control deformations more easily and build more detailed and natural free form jewelry. Delivered as an add-on to 3Design but also as a stand-alone solution, it allows another dimension of 3D jewels creation.
3DESIGN your imagination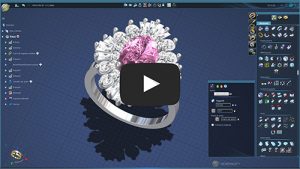 What's new in the 3D jewelry world?