How-to choose and compare 3D CAD Software for jewelry design?
10 questions that will help you compare the different jewelry design software on the market
Today, our prospects are all facing the same question when it comes to choosing their 3D CAD Software. To the question « which is the best cad software? » we will provide key points for a complete jewelry design software comparison.
You'll find many solutions on the market; and through this article we hope you will be able to find your ideal jewelry cad software.
Because we develop our own 3D cad software, our everyday job is to figure out how to make 3Design stand out of the mass and keep its position in the top-rated jewelry design software industry. Our solution must satisfy jewelry professionals, and that's why we know what might be the questions you're facing right now.
1- Here is a list different types of CAD Software used by jewelers:
Because of their use of pencils and gouache, jewelers' access the digital world through 2D drawing and sketching Software:
a. 2D design software for creative & artistic purposes
Some of them are dedicated to art and graphic creation such as Photoshop or Gimp. The latter, mainly used for photo touch-ups, artistic creations, sketches… Even if you essentially work in 3D, we recommend these 2D tools to prepare your backgrounds, textures, and sketches. A good use case would be altering and editing your renderings for marketing purposes.
b. 2D CAD software for technical & production purposes
Other 2D CAD software, like AutoCad, Illustrator or CorelDraw will be more useful for technical drawings, millings, engravings or to prepare cuttings, through the use of vector technology. You'll use this kind of software to design precise geometric shapes and texts. The way vectors work (as opposite to pixels), allows you to infinitely adjust, scale, and twist your shapes, lines & curves. Your creations / modifications can later be used to:
Establish the design of the model on a more technical aspect.
Choose how the elements will be cut during production
Prepare the end of production process by drawing patterns, making textures and writing texts to engrave on the jewel for personalization
It just happens that Type3 also develops a software dedicated to the above tasks: Artistic or industrial engraving and cutting software for CNC machines: TypeEdit.
These kinds of functions are the must-have when you're designing in a jewelry software. Indeed, most of them work automatically according to previously created elements, furthermore helping you conceive the ideas you have in mind.
c. 3D CAD Software for endless opportunities
When you consider entering the 3D CAD world you need to understand your perspective on how elements are created will and has to change. Even if you can compare it to your physical workshop, a software grants you access to many new possibilities only digital tools can offer.
As an example, let's say the size of the ring you're designing needs to be modified. Imagine how long would it take to sculpt another block of wax to get the model ready for production?With 3D, depending on the technology you choose, this job can be done in minutes. You can adapt (automatically or not) all the elements such as number of gems, prongs etc… in relation to the new ring size. Then you send it to your 3D printer for prototyping. And the best about this, is that, in the same move, you can send a list of slightly different rings to your printer. This way your client will have options while trying them.
Now, imagine that you want to create a collection, to show how creative you can be. In a traditional way, you would have to actually create the rings, then take pictures of them, and then contact a printer so you can get a nice leaflet to present your pieces. Now, with 3D, you can create a or several models in a few hours, and then alter the models to create declinations. Modifying your models can even lead you to create pendants, bangles, and bracelets while originally you only had a ring! Finally, you can generate incredibly realistic renderings helping you present gorgeous pictures of your models without losing time prototyping them.
The possibilities are endless: providing many new technical and business opportunities.
The main gain? Time: The available time dedicated to creation and personalization will be considerably increased thanks to 3D CAD software!
3D Rendering of a ring designed with 3Design® and rendered with DeepImage™
2- Which Jewelry 3D CAD software is mainly used?
3D Software are like cars. There are of many types. Do you need a family van, a Formula1, or a military tank? This depends on who you are, where you go and how often, with who or what you transport, etc.
3D Software with no required professional skills
If you're not a professional jeweler, you'll find jewelry apps such as Jweel or WizeGem that don't require any jewelry skills and are open to anybody.
Other versatile tools could be TinkerCad, Sketchup, Blender, with useful features.
3D Software for various 3D creations
3D professionals who aren't working in jewelry business will find many solutions dedicated to their industry: there are software for product design, cinema, video games, architecture and so on. Although you can still design jewels with them, it hardly can be done in a professional way or used every day as a jeweler.
To go back to the car comparison, it could be like driving a cabriolet, in wild mountains, during the winter. You would get to your destination; but on some roads, you might have some difficulties. Imagine doing it every day!
3D CAD Software for professional jewelers
Today, in professional jewelry design, 4 main software are concerned: Matrix, RhinoGold, JewelCad, and our favorite (wink wink), 3Design.
Complementary solutions exist:
for organic modelling: you can use Zbrush, Clayoo, Tsplines or 3Shaper;
for High level renderings: DeepImage, Keyshot, VRay or Brazil.
Popularity of each software and number of users vary among countries, depending on price, on market share, and on features each solution brings.
3- Now, let's discover the main differences between these professional jewelry 3D software.
Type3: 3Design
Type3, 3Design's editor is part of Gravotech Group. Its main activity based on bringing solutions to engraving, marking, milling & cutting with rotary and laser CNC machines. Type3 is the group brand dedicated to the software side of things: software that drive all these solutions. Working from the start with high jewelry designers, our solutions gap the bridge between artistic creation & industrial production. 3Design has been developed since 1999 to provide new innovative & advanced 3D technology to the Luxury industry.
Because of our client's high expectations, we made our path along high level technologies:
We have developed our own 3D engine;
We chose parametric history;
We enabled MacOS & Windows compatibility;
We built a software capable of catering to high jewelry designers and professional artists.
Our opinion? If we create something new, let's make it in the best way possible. Our independence gives us flexibility in terms of feature development and 3D engine progress. We dedicate 3Design and its growth to one sole mission: to support jewelers in their creativity and production.
Rhino
Rhino is also the name of the 3D engine that empowers Matrix & Rhinogold. This software is developed for generic 3D purposes with no specific jewelry features. Hence, it is used versatility and use in many industries; though it's mainly used for industrial product design and architecture.
Developed by Robert McNeel & Associates since 1980, this software has gathered a large community, due to the low entry barrier and cost. On the other hand, because of it's adaptable, and multi-market nature, this solution isn't as much dedicated to jewelry as the other software we mentioned. For example, the 3D engine (modeler) isn't parametric and is mainly a surface modeler.
Although, Rhino is available in Windows or MacOS, such as 3Design; while Matrix & RhinoGold are only available on Windows.
Stuller: Matrix & RhinoGold
Gemvision, owner of RhinoGold, joined Stuller in 2015. Now owners and developers of these two software solutions, Matrix and RhinoGold, the company also provides parts and other services for jewelry production. These both solutions are based on Rhino 3D engine meaning that Rhino must be purchased and installed first to run Matrix or RhinoGold. Since the 3D engine comes from Rhino, the development and construction constraints are the same as those of Rhino.
With their parts library, you can design your creation in RhinoGold, and seamlessly send your design directly to their production department and get a quote. A perfect strategy to enhance Stuller's business. Everything you want to know on who is on Stuller website.
JewelCad
Jewelry CAD/CAM Ltd. is a Chinese based company with partnership with a local Jewelry manufacturing company. JewelCad is a 3D free-form surface modeler. Decades away, JewelCad opens the path for 3D jewelry design. After a rewriting 1994 it became compatible with PC. Massively used in China through, we didn't see any new version since 2001.
4- Which features, or applications should I look for?
Easy sketch features
Importing vectors or scanned sketches and drawing from scratch, are the main tasks in 2D. The entire range of 2D design tools needs to be accurate and simple to use inside your 3D Software.
Don't forget the draft kit feature: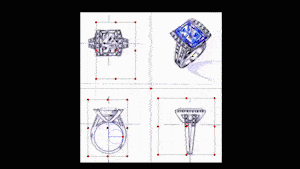 This feature lets you design on a 3D view of your hand-drawn sketches. After importing your scans, it will then set them up as a cube to give you a 3D view of your model. You now just have to reproduce the curves in 3D to prepare your model.
Windows / MacOS compatibility
The reason is very simple: many designers work on both environments; while industrial production teams (such as service bureaus), often work with Pc. How can you work with others if your files can only be opened one side?
Parametric history
If a regular use, parametric is pretty straightforward, and relatively easy. Nevertheless, you need to first understand how it works.
Here a table of actions to build a simple ring:
With parametric
Draw a circle with the ring size builder : 10 seconds
Draw a circle with the size ring tool : 10 seconds
Draw a profile: 10 seconds

Extrude the profile: 20 seconds

Design a gemstone: 20 seconds

Add a setting: 30 seconds
You're done in 1min30 max
If you need to change the size of the ring, just edit step 1 and the software will recalculate everything in 1 single click:
TOTAL WITH MODIFICATION:
1min32.
Without parametric
Draw a circle with the ring size builder : 10 seconds

Draw a circle with the size ring tool : 10 seconds
Draw a profile: 10 seconds

Extrude the profile: 20 seconds

Design a gemstone: 20 seconds

Add a setting: 30 seconds
You're done in 1min30 max
If you need to change the size of the ring,
go to step 1
and start over:
TOTAL WITH MODIFICATION: 
3min
Now think of a complex model and imagine how much time you could save with parametric. The opportunities are worth considering!
Indeed, what parametric brings is the possibility to do fast modifications and vastly rework models. Furthermore, it helps optimizing your creative process by letting you look back on how you've created the piece; all of this helps you get better designing habits. Finally, another big advantage of parametric is the possibility to create multiple declinations from a base model.
Jewelry Range declination
Thanks to parametric, you can see that modifying a ring size is a two second task. You can, with the same process, duplicate the base model and only change one parameter on each of the duplicates. For example, the size of the gems, the number of baguettes, the shape of your setting, the color of the precious metals and stones: possibilities are endless!For experts, an advanced parametric mode exists and lets them produce jewels ready for personalization.
Model library
Having access to a model library allows you to quickly pick and edit predefined elements and jewel parts. Such a library usually gives you access to profiles, clamps, ring settings, chains, shanks, and much more.
Sometimes, jewelry software allows you to populate the existing library with some of your creations and elements; in other words, if you create a stone setting you like and want to use in the future, no need to do some exporting and importing. This function grants the user a deeper personalization of his work area (e.g. 3D jewelry software).
Of course, the library should remain accessible, offer a lot of different pieces and elements to work with, and be extensible, but it must not feel cluttered and complex. No one likes to spend ages looking for the piece they need.
What we think, is that libraries are essential to start, and get your creativity going. So, this implementation in a jewelry software is a good thing, allowing new 3D CAD users to jumpstart their production.
However, creators shouldn't only rely on pre-built libraries to design and manufacture jewelry. Indeed, and even if the library is extensive, there is only a limited amount of jewelry pieces you can create with given elements (and not counting the elements you'll never use if you don't like them).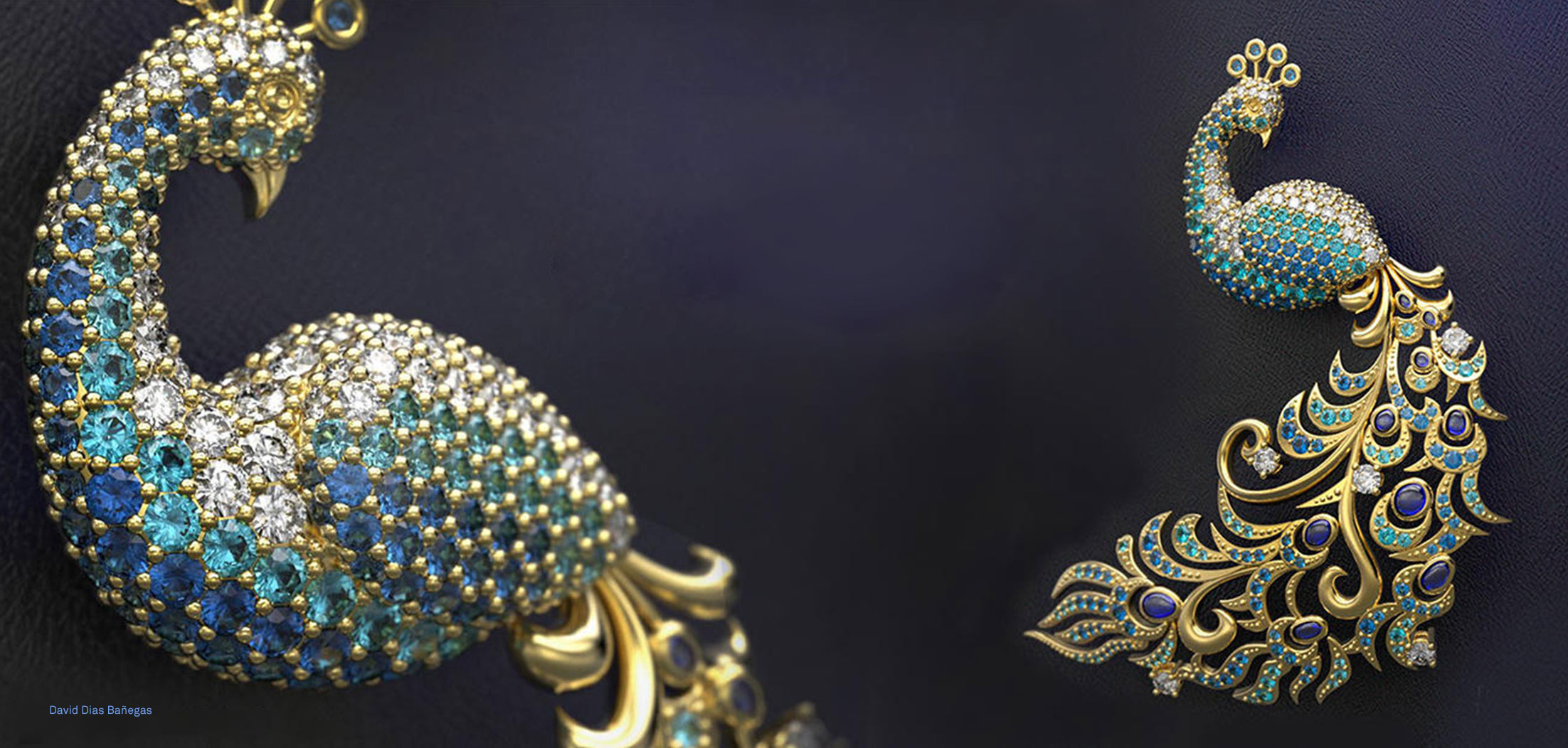 Designed by M. David Dias Bañegas with 3Shaper
Organic Modelling
By default, 3D CAD Software for jewelry design are usually not built for organic modelling: because they use geometric shapes to create volumes. However, since Jewelry design is widely inspired by nature, new tools have been built to cater to free-form creation. Instead of extruding shapes and curves, you can work on surfaces as if you were working with clay.
A notable example could be 3Shaper, because of its direct integration into 3Design: both software can work on pieces, alternating between shape creator and organic modeler. Indeed, organic sculpting and shaping is the core task of software such as 3Shaper.
Another noteworthy software would be ZBrush, a powerful 3D carving tool specialized in free form sculpting and texturing. This stand-alone software has made its reputation with talented 3D modelers and sculptors, using the software for many purposes and many industries: from cinema props to actual sculptures and statues. On the other hand, 3Shaper is dedicated to the jewelry industry – even if some users created cars and pieces other than jewelry in that software.
Functions such as pave, baguettes, prongs & settings
This is the part where non-jewelry dedicated software fall short. These complex features aren't easy or time-efficient to reproduce manually, even for professional CAD users.
These kinds of functions are the must-have when you're designing in a jewelry software. Indeed, most of them work automatically according to previously created elements, furthermore helping you conceive the ideas you have in mind.
Bas-relief design
As the previous functions, this one isn't easy to reproduce non-automatically. And even harder to do by hand. Once again, the power of software and mathematics comes to the rescue!
As seen on the picture below, Honeycomb designs can enhance your jewelry by allowing you to work on its hidden face. This adds a layer of visual symmetry to the piece, while bringing more light to the jewels once the ring is finished.
Stone reports, technical drawings, quotation
Using a dedicated CAD jewelry software isn't only about the 3D and the creation. Being able to establish precise reports for your personal records, technical drawings for better document classification, and quotations for clients to exactly know what they are getting and paying for.
Having these features included in the software makes it more professional, and helps the user feel he has a complete package.
Renderings
What you usually find in dedicated jewelry software, is an integrated rendering module: though it could be seen as useful and quite fast to use, you're missing opportunities to create impact in your communication campaigns.
Indeed, external 3d jewelry rendering software are the best bet when it comes to beautifying your models. You can easily modify the viewing angle to get the best light reflection, adjust the shining colors of the jewels, modify the textures and aspects of the body and stones, create an atmosphere, and animate your piece with props and camera movements.
Overall make your design look more realistic, presentable to the final client. Due to the high-resolution output, renders can be used on websites, catalogues, advertisement, or video; making it the perfect marketing asset.
Comfort of the interface
Finally, the right software isn't always equal the most powerful one. A defining factor for a lot of people, and for long term users, is ergonomics, and what is called user experience: indeed, how the software presents functions, visual indications, parameters, and global aesthetics affect the user experience.
Although this is quite subjective, we believe good ergonomics and ease of use are essential to a professional. Indeed, no one wants to spend 2 hours looking for the right function, or looking for workarounds to get the job done.
We could group all of this down to visual and actual organization of the software. This factor can change the pleasure you get from using your jewelry digital workshop.
Some companies build their product offer around these principles: making the products or services easier to use; and more appealing in general. We recommend you choose your 3D jewelry software solution you could see yourself using in 5 to 10 years.
To make yourself an opinion on one of the leading software on the jewelry market, check out our online webinar.
5- Do I need one global solution or different specialized ones?
There has always been some compromises and opportunities when it came to choose the "perfect" solution. Sometimes, you can pay extra to have the "all in one" package, with seamless transitions between the functions. Or you can go the cheaper way, and parameter each solution to cater your needs.
What's important to note is that the latter option is often reserved to mode advanced users. Indeed, finding how to link applications and make them work in cohesion can often bring small issues. The upper side being that you can choose the software you wish to use; one that fits your needs and answers to expectations.
In some cases, buying a global solution isn't the long-term choice – for example some all in one computers aren't easily upgraded, and present only few advantages compared to a regular computer. But in other cases, global solutions can offer a combination of the best elements you can find for your usage and work. You must assess your priorities, what you already have, and obviously your budget in order to make your choice.
6- Can I try them? And how can I get a demo?
Trying a software is recommended during selection process of your 3D CAD Software. However, these kinds of tools aren't so easy to discover by yourself. We advise you to be helped, and there are many ways to it:
a- Ask to a friend
Do you have any friend or colleague with the software you want to try? Ask him if you can spend some time next to him. Seeing how he works will give you hints on how you could organize yourself; plus, having a pair's feedback is always useful.
b- Go to a hands-on or a tradeshow
Schools, events, open-door days, conventions, etc., you have a lot of opportunities to try these software for free, and you'll benefit of a small training from the person who is actually a user. It's a good way to meet other people like you, who are also looking for the perfect jewelry design software and exchange your thoughts, and questions.
c- Take part in a webinar
Most editors and distributors organize live web demonstrations – also called webinars – for new users and new clients to see. You can choose the date that fits your calendar, plug in your headphones and be ready to take notes. This approach could be compared to a university class, in which a teacher presents a concept – here the software of your choice – to a class, and can answer questions.
Many webinars can be found on the jewelry software editor's website. Or in jewelry focused groups, on Facebook for example.
If you feel interested in a webinar, you can register to one about 3Design here – Get a personal demo from an editor or a distributor
Of course, a private presentation of the software is the best way to get to know it. The trainer/presenter from the involved company will set an appointment with you and fine tune the demonstration to your needs and business.
This is surely the best kind of software presentation, thanks to the possible interaction with the professional. Although, be careful that you meet someone who will be able to provide the information you're looking for.
7- What is the price of these Jewelry software? Where can I buy one?
According to your budget, and your career plans, several software will be available. Indeed, some are free, and grants you access to basic functions, or you can have the most dedicated 3D CAD software for jewelry and pay a price that looks more like a business investment (and which it is).
Price range for the main 3D jewelry software:
Jweel, TinkerCad, Sketchup, Blender: Free *
Rhino: $1200 *
RhinoGold, Matrix & 3Design around $6000 *
*: prices are approximate and may vary with time.
This price range can give you an idea of how much you will have to invest into this piece of technology, to get your hobby, or business running.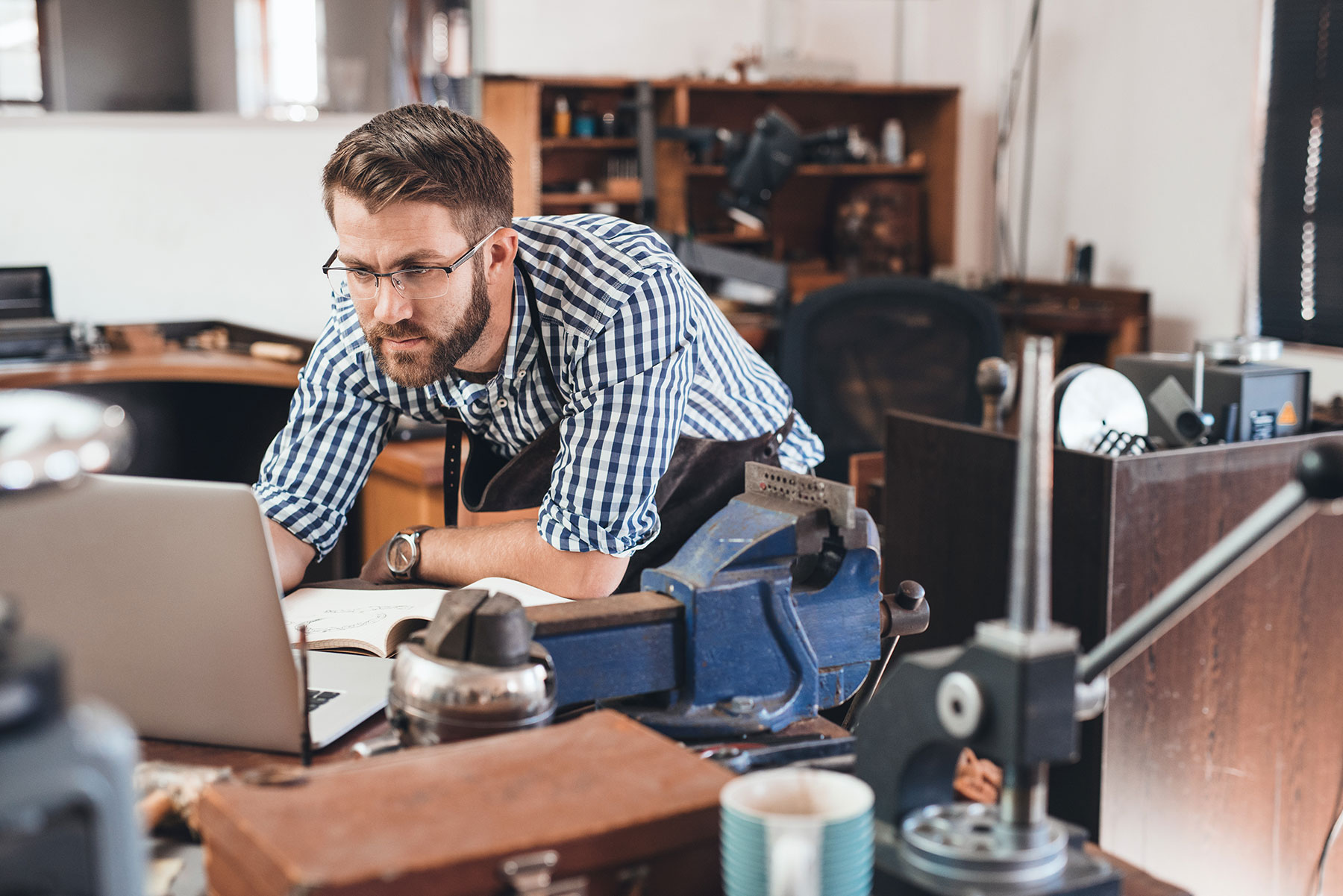 8- How to get more answers and help me in my research?
Except from studying this article, – thanks for reading this far! – there are multiple ways to gather and find more user answers and reviews about available Jewelry CAD software on the market.
The most straightforward way is to visit user forums. You will easily find brand dedicated forums such as the 3Design forum, the Zbrush forum, or more independent forums as 3dcadjewelry, and even more industrial forums.
In addition to that, visiting the support or F.A.Q. sections of the software are a good way to get answers to your interrogations. It can also give you hints on how the jewelry CAD is backed by technical teams. Or how the brand expects to help you in case of an issue.
Another way is to physically go to jewelry tradeshows, where multiple brands could expose their software. In addition to answering to your questions, the representatives could give you a short demo, as mentioned before.
When travelling the internet, many people will have many opinions, so try to remain objective when finding many sources of information, as people can easily exaggerate, or emphasize arguments.
9- Which one is the easiest to learn?
Learning how to use new tools can be experienced differently by several people. One could be a heavy CAD user, while another could be less experienced with computers, but nonetheless an expert jeweler.
The key element, in general, is the medium through which you learn. A software could be less powerful than some competitors, but the way it's use is taught could dramatically change your perception of it.
Most of the people prefer getting training with an expert on the software, in a small group or privately; and this is what we recommend! Following tutorials on the web or reading manuals and documentation won't teach you the way of designing on a 3D Jewelry CAD software. Even if you get tips and tricks, the difference is big.
You could think: "but there are several websites that offer online courses and training courses about software!". This is entirely true, but the courses are very limited, don't cover as much topics, and lack dedication to the jewelry industry.
10- What kind of added services can I expect?
To answer simply, it depends on the company and price you pay for the software.
Nevertheless, you can expect some common services, such as:
Training
In our opinion, this is the most significant of them. Training is always useful, especially when you've never interacted with one of that type before; and at the beginning. This could be compared learning a new musical instrument: developing good habits and having good practice since the start is the path to success and experience.
On the other hand, if you think it's worth saving a bit of money on the training, you could try to train yourself: spending much more time finding your way around, having to crawl the internet in search for an answer to your question/issue, and eventually losing business opportunities.
Editors aren't the only ones able to provide training; software distributors and jewelry schools with the software's teaching certification can offer courses and guides.
Beforehand, you must check the levels the courses are dedicated to, so you can start from what you already know and increase your knowledge.
Your content goes here. Edit or remove this text inline or in the module Content settings. You can also style every aspect of this content in the module Design settings and even apply custom CSS to this text in the module Advanced settings.
After some training, your new 3D CAD skills can be a very valuable selling point for recruiters, or clients. Through a certification program, you can obtain physical evidence the software company recognizes you as a 3D Designer with professional level and aptitudes.
Production services
This added service can allow jewelers and designers to quickly get their creations quoted and produced. Stuller is the perfect example for this, as they sell the jewelry software, and can print the prototype, cast, and crimp the jewel for you.
Service bureaus
If the latter service isn't included with the software, you can still rely on the network of service bureaus and casters the brand has developed: contacted the sales or support team, and sometimes visiting the website can provide you this kind of information.
As service bureaus are usually independent from software companies, they still need to have their software in order to receive and create the jewel prototypes. Checking if they do have the software you have, if they are able to print high quality prototypes is mandatory. Even better if the brand certified them.
Recommended requirements / Computer part advice
Usually, the company developing the software are the best at knowing what works best with their software.
In fact, they often recommend some specific computer parts – generally graphics card, processor, screen resolution –  as a minimum configuration so the 3D CAD software runs smoothly.
If this kind of information sound complex, you can directly contact the company you got the jewelry software from so they can advise you a machine; and sometimes provide some discounts with partnered computer companies.
Furthermore, this doesn't only concern your computer. The peripherals, and additional tools could be suggested by that same software editor: it could have to do with 3D mice, 3D printers and 3D scanners. And there are a lot of them on the market.
Support services from the editor
Finally, and maybe the most common service a software editor could provide, is technical support.
This has been noticed though the years, but jewelers and CAD users need the support the most on the first year they use the software. Indeed, training, if done, is still fresh; and final users are still in the software discovery state.
Technical support is maybe the most critical part a 3D CAD software editor must deal with. As a matter of fact, bad technical support can often result in bad notoriety, which could easily lead to a loss of market shares if not solved.
This service, most of the time free on the internet, sometimes comes at a price when you need to contact a technician. Monthly, or yearly, this service comes in different packages, and vary from one company to another. Don't worry though, details are often found on the website, or when you get in touch with a salesman.
To wrap this up, choosing the best jewelry software might take some time, but is worth it. Rushing to buy the first one that comes along, or that a fellow jeweler advises might end up into a waste of time and money.
Do your due diligence, prepare your actual or future activity for this, pretty painless, integration, and start gathering information! And let's hope this article helped you in a way or another to choose the software that's right for you.
All this, so you could easily get your digital workshop up and running!
Deciding what is the right software for you is defined by what you need as a jeweler, and what are your ambitions!