The High-Performance Mobile Workstation to Exploit the Potential of 3Design
Official hardware Partner
Easy to Handle, Easy to Travel
"The computer everyone was waiting for "
MSI's Workstations ensures your critical applications run steadily, providing optimal performance and a high-quality user experience.
Graphics
"The best graphics card for the best software"
3Design is greedy, it needs to display your 3D jewelry as well as possible, MSI offers you the best graphics card.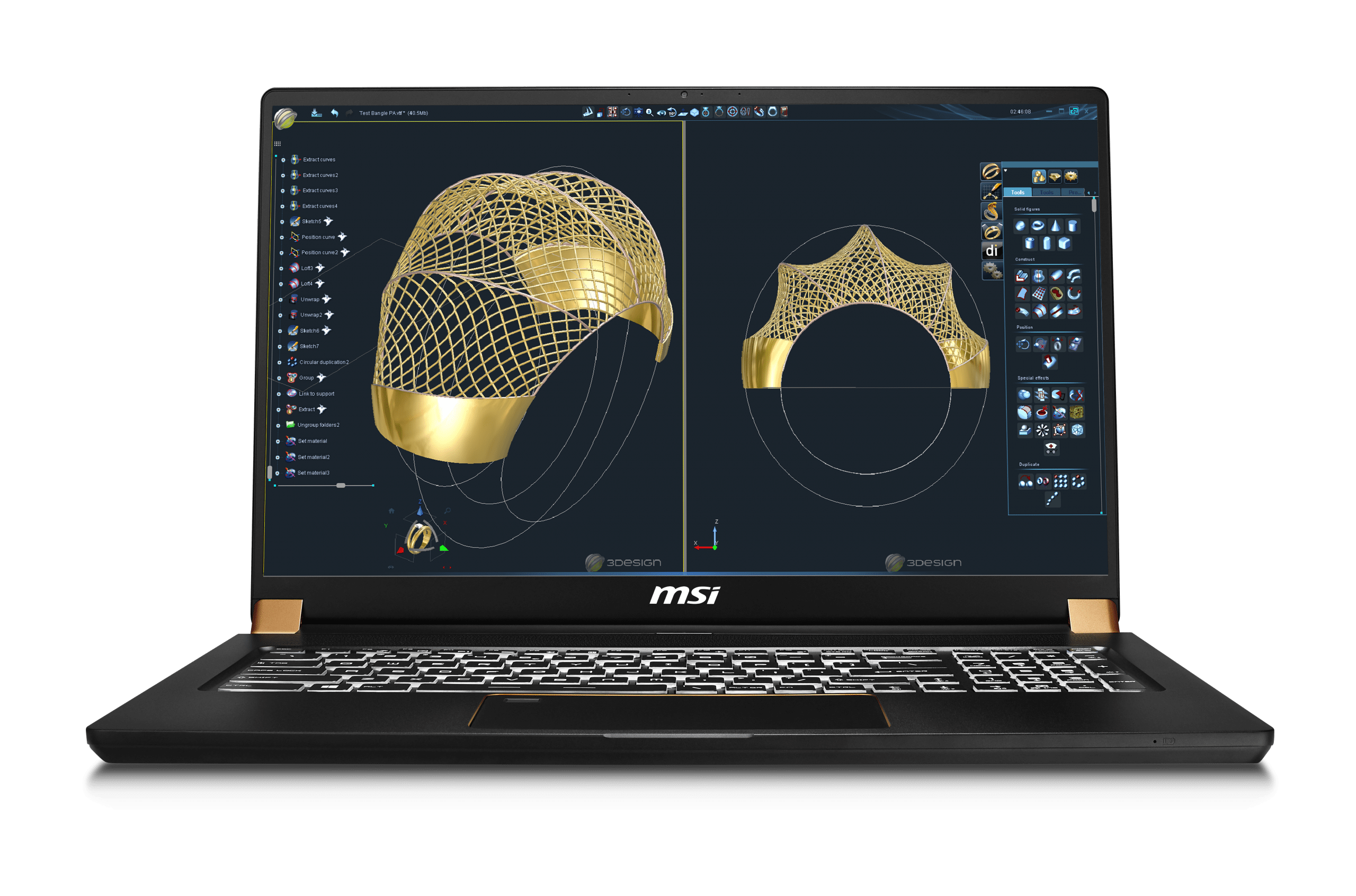 Outstanding capacities
"When capacities rhymes with results"
High performance : Multi-tasking / Reduce lagging
Balanced : Self-used cozy mode at your time
Silent : Conference & Library / Reduce Noise
Super Battery : Meeting Outside / No need for an adapter
Design
"Thin, light and portable"
Finally a computer for luxury with a smooth design!
Colours adapted to the world of jewelry, don't be ashamed of your computer anymore.
About MSI
MSI Mobile Workstation is presented by the MSI, a leading manufacturer offering premium laptops. With extremely high performance and outstanding stability, the MSI Mobile Workstation is the best choice for the industries of jewelry design, architecture, oil & gas, defense, media and entertainment, medical, life science and manufacturing. For more information about the MSI Mobile Workstation, please visit https://www.msi.com/Workstations/.
Introducing 3Design Jewelry CAD Software
3Design uses the latest graphic display technology for a real time realistic design experience. Inspired by video game graphic technology, 3Design uses the latest OpenGL, resulting in fast computations and remarkable visuals.
3Design makes CAD / CAM for jewelry a intense moment of creative pleasure.