Creative Design, Traditional Craftsmanship and Digital Technology are the key elements of jewelry industry transformation and upgrading
This is information from Taiwan Jewelry Arts lnstitute
The increasing trend of Digital Economy and Platform Enterprises, together with the Global Supply Chain which leads to the trend of Industry 4.0, the integration of Creative Design, Traditional Craftsmanship and Digital Technology becomes the key elements of transformation and upgrading of the jewelry industry.
The trend of digital technology is becoming easily and widely used. Digital learning is not only to enhance the technology applicability, but more importantly, to train our own "brain" interoperates with the computer, to create digital logic.
No matter how sophisticated and advanced the technology is, hardware devices must rely on data to drive, and digitalization has completely reversed the traditional manufacturing process.
The current mainstream jewelry design program includes 3Design, Rhino, Matrix, CAD, ZBrush etc., where each program has its own strengths and advantages. With comprehensive evaluation of relative advantages, compatibility, complexity, trialability, observability and possibility.
Taiwan Jewelry Art Institute chosen "3Design", the most user friendly computer graphics software for beginners. 3Design has four advantages:
The operation interface is really user friendly, and is easy to apply to other applications, which would be beginner friendly.
With the parameterized drawing logic, the changes can to be partially modified, saves the trouble from redrawing.
High compatibility with different hardware, especially high compatibility of output to different printers.
The color simulation is highly effective, which can benefits illustration, communication and sales.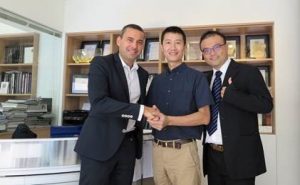 Here, I am honored to be officially authorized by the original French representative David Lehmann of software manager to promote the 3D design in Taiwan and to promote the jewelry digital transformation in Taiwan.
Setting is the most unique form of jewelry art.
If you don't understand the setting, then you don't know the jewelry craft. If a 3D engineer knows little about the setting process with no knowledge of gems and precious metals, neither nothing about variety of setting structures, then the drawing can hardly be used. No matter how perfect the drawing looks, which will be a waste of the 3D printing function. In view of this, the Taiwan Jewelry Art Institute has adopted the "duo-lecturer" approach. One is responsible for guiding students to operates the 3Design program, practicing various techniques of computer graphics, and correctly presenting the "model mould" and "simulation diagram" of jewelry. The other lecturer is responsible for teaching students the forms of various gems together with jewelry knowledge and technology such as "materials, constructions, structures, modules, functions " to strengthen students' basic jewelry understanding.
Written by
Mr. Chunxiong Lu, CEO of Taiwan Jewelry Art Institute has indicated that "The Taiwan